Books
The Fourth Turning Is Here
(2023)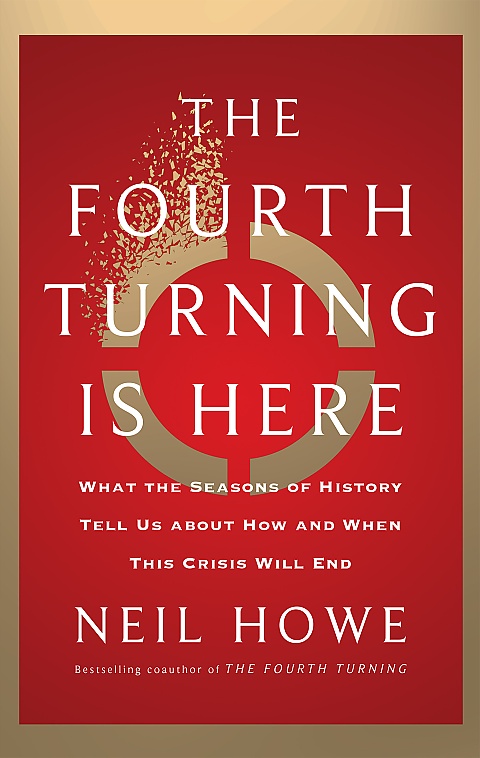 Buy Now
The visionary behind the bestselling phenomenon The Fourth Turning looks once again to America's past to predict our future in this startling and hopeful prophecy for how our present era of civil unrest will resolve over the next ten years—and what our lives will look like once it has.
Twenty-five years ago, Neil Howe and the late William Strauss dazzled the world with a provocative new theory of American history. Looking back at the last 500 years, they'd uncovered a distinct pattern: modern history moves in cycles, each one lasting roughly eighty to one hundred years, the length of a long human life, with each cycle composed of four eras—or "turnings"—that always arrive in the same order and each last about twenty years. The last of these eras—the fourth turning—was always the most perilous, a period of civic upheaval and national mobilization as traumatic and transformative as the New Deal and World War II, the Civil War, or the American Revolution.
Now, right on schedule, our own fourth turning has arrived. And so Neil Howe has returned with an extraordinary new prediction. What we see all around us—the polarization, the growing threat of civil conflict and global war—will culminate by the early 2030s in a climax that poses great danger and yet also holds great promise, perhaps even bringing on America's next golden age. Every generation alive today will play a vital role in determining how this crisis is resolved, for good or ill.
Illuminating, sobering, yet ultimately empowering, The Fourth Turning Is Here takes you back into history and deep into the collective personality of each living generation to make sense of our current crisis, explore how all of us will be differently affected by the political, social, and economic challenges we'll face in the decade to come, and reveal how our country, our communities, and our families can best prepare to meet these challenges head-on.
The Fourth Turning: An American Prophecy
(1997)
Buy Now
Discover the game-changing theory of the cycles of history and what past generations can teach us about living through times of upheaval—with deep insights into the roles that Boomers, Generation X, and Millennials have to play.
First comes a High, a period of confident expansion. Next comes an Awakening, a time of spiritual exploration and rebellion. Then comes an Unraveling, in which individualism triumphs over crumbling institutions. Last comes a Crisis—the Fourth Turning—when society passes through a great and perilous gate in history.
William Strauss and Neil Howe will change the way you see the world—and your place in it. With blazing originality, The Fourth Turning illuminates the past, explains the present, and reimagines the future. Most remarkably, it offers an utterly persuasive prophecy about how America's past will predict what comes next.
Strauss and Howe base this vision on a provocative theory of American history. The authors look back five hundred years and uncover a distinct pattern: Modern history moves in cycles, each one lasting about the length of a long human life, each composed of four twenty-year eras—or "turnings"—that comprise history's seasonal rhythm of growth, maturation, entropy, and rebirth. Illustrating this cycle through a brilliant analysis of the post–World War II period, The Fourth Turning offers bold predictions about how all of us can prepare, individually and collectively, for this rendezvous with destiny.
Millennials in the Workplace: Human Resource Strategies for A New Generation
(2010)
Everyone notices that the rising generation of young workers is different, from their early career planning to their desire for instant feedback to their comfort working in teams. Most managers see this youth workforce as a merely a liability or a challenge—but Millennials in the Workplace reveals how they could be an asset and an opportunity. Find out who the Millennials really are, what they're looking for in their careers, and how employers, educators, and policy makers can maximize their workforce potential.
Millennials and K-12 Schools: Educational Strategies for A New Generation
(2008)
In this application book, Neil Howe and William Strauss explain how the Millennial Generation of students has been shaking up today's schools—from hyper-involved parents to new issues over school security, from shifting perceptions of "college-ready" and "school-to-work" curricula to the struggle to get pressured, consensus-oriented students to think outside the box. In the book, co-published with the American Association of School Administrators, Howe and Strauss also analyze the recent shift from Boomer to Generation X parents and the new Gen-X focus on accountability, transparency, and choice. And they explain still other generational changes shaking up today's teacher corps. For each issue, the authors offer a hands-on list of "what to dos" for anyone involved in K–12 education.
The Graying of the Great Powers: Demography and Geopolitics in the 21st Century
(2008)
The Graying of the Great Powers offers the first comprehensive assessment of the geopolitical implications of "global aging"--the dramatic transformation in population age structures and growth rates being brought about by falling fertility and rising longevity worldwide. It describes how demographic trends in the developed world will constrain the ability of the United States and its traditional allies to maintain national and global security in the decades ahead. It also explains how dramatic demographic change in the developing world--from resurgent youth bulges in the Islamic world to premature aging in China and population implosion in Russia--will give rise to serious new security threats. While some argue that global aging is pushing the world toward greater peace and prosperity, The Graying of the Great Powers warns that a period of great geopolitical danger looms just over the horizon. Neither the triumph of multilateralism nor democratic capitalism is assured. The demographic trends of the twenty-first century will challenge the geopolitical assumptions of both the left and the right.
Millennials Go To College: Strategies for a New Generation on Campus (2nd Edition)
(2007)
In Millennials Go To College, generational experts Neil Howe and William Strauss present the latest data on Millennials and how they are changing—and will continue to change—college life, including the results of original surveys of students and parents.
Millennials and the Pop Culture: Strategies for A New Generation of Consumers
(2006)
This handbook is designed to help you with the key challenge in pop culture: figuring out today's young people before your competitors do. Suppose, in 1962, you possessed a roadmap that pointed you to Woodstock. Suppose, in 1980, you held in your hands a guide to how MTV and hip hop would take off. Millennials and the Pop Culture does exactly that, for the pop landscape of tomorrow. In this handbook, Howe, Strauss, and industry insider Pete Markiewicz bare the heart and soul of a new generation of youth. The Millennials, born in 1982 and after, are anything but X. And they are already rocking the world of pop culture.
Millennials Rising: The Next Great Generation
(2000)
In this remarkable account, certain to stir the interest of educators, counselors, parents, and people in all types of business as well as young people themselves, Neil Howe and William Strauss provide the definitive analysis of a powerful generation: the Millennials. Having looked at oceans of data, taken their own polls, talked to hundreds of kids, parents, and teachers, and reflected on the rhythms of history, Howe and Strauss explain how Millennials have turned out to be so dramatically different from Xers and boomers. Millennials Rising provides a fascinating narrative of America's next great generation.
13th Gen: Abort, Retry, Ignore, Fail?
(1993)
In commentary and quotations, computer dumps and cartoons, 13th Gen is a multimedia anthem to the American post-boomer generation, our country's thirteenth generation since the founding fathers.
Generations: The History of America's Future, 1584 to 2069
(1991)
The seminal work on generations from the acclaimed authors of The Fourth Turning. The Strauss-Howe generational theory explains how generations evolve, and how they affect our society—from hundreds of years in the past to decades in the future.

William Strauss and Neil Howe posit the history of America as a succession of generational biographies, beginning in 1584 and encompassing everyone through the children of today. Their bold theory is that each generation belongs to one of four types, and that these types repeat sequentially in a fixed pattern. The vision of Generations allows us to plot a recurring cycle in American history—a cycle of spiritual awakenings and secular crises—from the founding colonists through the present day and well into this millennium.
Generations is at once a refreshing historical narrative and a thrilling intuitive leap that reorders not only our history books but also our expectations for the twenty-first century.
On Borrowed Time: How the Growth in Entitlement Spending Threatens America's Future
(1988)
Entitlements represent one of the largest and fastest-growing portions of the federal budget. They are regarded as sacrosanct by lawmakers, yet many people see them as one of the greatest threats to the American Dream. This volume argues that by sacrificing the future in order to pay ever-larger federal benefits through programs such as Social Security, Medicare, and federal pensions, entitlement spending has become a crushing burden to American workers.